The system is used for designing and making lightweight flat curtain walls of hanging and filling type, as well as roofs, skylights, and other constructions.

Technical specification
The shape of pillars and bolts allows to build attractive façades with visible narrow dividing lines, which at the same time guarantees durability of the construction. Additionally, the profiles have rounded external corners, which give the soft-line effect. An attractive variety of the MB-SR50 is the horizontal and vertical line, which emphasises the horizontal and vertical dividing lines.
The application of continuous thermal break made of insulating material HPVC and profiled glazing gaskets made of EPDM allows to achieve the appropriate class of thermal insulation and minimises the occurrence of steam condensation on aluminium elements.
Due to a multi-layer construction of the spandrel, where non-flammable materials such as mineral wool and plasterboard have been used, the fire resistance class of F0.25(EI15)NRO, F0.5(EI45)NRO (depending on the structure) has been achieved.
Special overlapping profiles and appropriately shaped clamping and concealing strips were used to make a broken wall in the horizontal and vertical cross-section, thanks to which there were no restrictions in shaping the spatial mass of the building and there was no need to use special angle mullions.
The reference document for declaration of compliance for vertical façades in system MB-SR50 is the Harmonised European Standard "PN-EN 13830 Curtain walling — Product standard", whereas glazed roof structures based on this system are covered by Technical Approval ITB AT-15-8158/2009.
Anti-burglary structures can also be made on the basis of this system.
Colouring
Window panes
Glazed unit is a hermetically sealed system of glass panes separated from one another, integrated along the perimeter with space bars and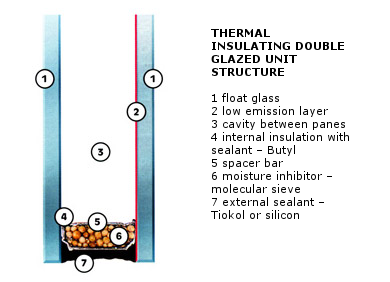 sealed with a sealant.Space between glass panes, referred to as cavity, is filled with air or noble gas.
Cavities can be used for installation of decorative dividers. Characteristics of glazed unit can be freely modified by using suitable types of components and coats as well as suitable number and width of cavities between glass panes.
Glass units types
low emission
acoustic
solar control
fire resistant
safety and security