The GOLDEN 82+ window is based on Veka Softline 82 profile – a new generation energy-saving window profile system. This is our best product, additionally equipped with Winkhaus activPilot Select fittings, which improve its aesthetic value by discreet hiding within the fittings groove. GOLDEN 82 + is characterised by unique design, highest level of energy-saving and exceptional functionality. This is our top product for the most demanding clients, interested in the application of the latest technological standards.
Properties
The window profile system with multi-chamber geometry (7 chambers in the frame profile and 6 chambers in the sash profile) and installation depth of 82 mm, ensures energy efficiency at the highest level (the scope of use ranges from energy-saving houses to passive houses). The profile system itself is characterised by coefficient Uf = 1.0 W/m2K;
The double or triple glazing with window pane thickness between 24 and 52 mm provides the possibility of glazing doorways and sashes according to individual needs.
The thickness of external walls of the profile amounts to 3 mm (with the tolerance of 0.2 mm), i.e. the parameter meets the highest standards of RAL Class A (PN-EN 12608).
As a standard feature, the system of three gaskets is made of high-quality long service life plastic, with excellent protection against noise, cold, humidity and draughts.
Gently outlined shapes and lower structure height allow better lighting of the apartment.
Ideally smooth surfaces made of plastic entirely resistant to the impact of atmospheric conditions and ageing; do not require painting.
fittings groove located in 13 mm axis allows for applying stronger elements of fittings;
Special sash reinforcement structure provides ideal statics and security.
Additional frame ribbing provides stable fastening of fitting latches.
Veka steel reinforcements, tested over the years and worth recommending, provide excellent statics, long-term window functionality and anti-burglary security. The frame includes a chamber with closed steel reinforcement, whereas the sash includes double-folded open reinforcement.
Technical specification
PVC profile thickness
82 mm
Number of chambers in frame
7
Profile heat transfer coefficient
Uf
1,0 W/m2K
Number of gaskets
3
window pane package
triple-pane
4T/18/4/18/4T
Glass heat transfer coefficient
Ug
0,5 W/m2K
Glass pane spacer
Chromatech Ultra
SELECT (hidden hinges)
standard feature
Number of anti-burglary latches (RU sashes)
2
DFE (handle-turning lock with sash lifter)
standard feature
MSLOS (tilt regulation)
standard feature
ZSS (anti-slam tilt lock)
standard feature
Micro-ventilation
standard feature
Under sill strip
standard feature
Type of handle
SECUSTIC
(Standard) glass acoustic insulation
Rw
33 dB
Alternative design
—-
Colouring
Window panes
Glazed unit is a hermetically sealed system of glass panes separated from one another, integrated along the perimeter with space bars and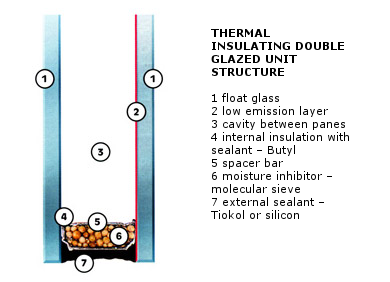 sealed with a sealant.Space between glass panes, referred to as cavity, is filled with air or noble gas.
Cavities can be used for installation of decorative dividers. Characteristics of glazed unit can be freely modified by using suitable types of components and coats as well as suitable number and width of cavities between glass panes.
Glass units types
low emission
acoustic
solar control
fire resistant
safety and security